Thoughts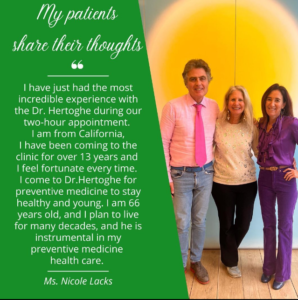 « I have just had the most incredible experience with the Dr. Hertoghe during our two-hour appointment.
I am from California, I have been coming to the clinic for over 13 years and I feel fortunate every time.
I come to Dr. Hertoghe for preventive medicine to stay healthy and young. I am 66 years old, and I plan to live for many decades, and he is instrumental in my preventive medicine health care.
He is a delightful person, and not only did I learn about the newest medical and hormone therapies but also the spiritual approach about expressing and accepting the feelings inside of me so I can only manifest happiness and good health, so I highly recommend coming to Dr.Hertoghe.
He is the best in the world. »
Ms. Nicole Lacks