Information on the consultation
Frequency and duration of consultations
On average, the first year you will have four consultations, which will then evolve to an appointment every 6 to 9 months, depending on each case. Patients coming from far with no specific or important symptoms will be able to reduce the consultation to once per year. Each consultation lasts on average, one hour.
Foreigners will have the possibility of booking their two first consultations on the same day. However, note that you will need to do all the necessary laboratory tests (blood and 24h urines) at least one month prior to your appointment.

Consultations
The treatments are personalized and prescribed based on:
Your complaints
A detailed questionnaire
A physical examination
Your blood test results analysis (required before every consultation from the second appointment)
Your 24-hour urine results analysis (Dr. Hertoghe's family is the pioneer in the use of this test)
Additional tests feasible at the clinic prior to your appointment
At the Dr. Hertoghe Clinic, we can offer you an Oligoscan.

What is the oligoscan?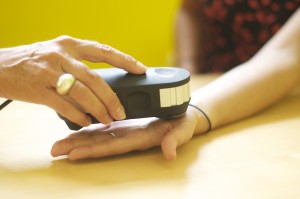 The Oligoscan measures the tissue levels of 20 (including 11 additional to blood) trace elements and 14 toxic metals. In less than 1 minute, this test will detect your deficiencies in magnesium, zinc and selenium… just to mention a few. This test is for patients of all ages and is recommended before each consultation.
The first consultation will enable us to examine you and extend a preliminary diagnosis on various aspects of your life. Your doctor will go through your questionnaire with you, ask any further precisions and will perform a specific physical examination.
As from the second consultation, you will receive your appropriate treatment according to the laboratory test results and the doctor's analysis.
The following consultations are what we call "follow-up" consultations and will be the opportunity for your doctor to adjust your treatment according to the evolution and condition of your health. If needed, the doctor will perform a physical examination and laboratory tests to adjust the treatment.
Note that any cancellation less than 48 hours prior to your consultation will be charged full amount. You can cancel your appointment either through our online reservation platform or directly by contacting the secretary. .
In order not to cause too many delays in the consultations, we kindly ask you to arrive 10 minutes prior to your appointment time.
Consultation Times
You can take an appointment, within the doctors availability, from Monday to Friday from 9h30am to 5.30pm.