Dr. Sabine Vranken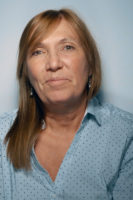 General medicine and Gynecology have been part of my life for over 30 years.
In these practices, I have been constantly using hormonal therapies, particularly in the field of menopause, diabetes and thyroid problems. My interest in the nutritional and micronutritional approach proved to be an adjunct to hormonal treatment.
Hormonal Therapy is the advanced and future tool that help the doctors in their daily challenges. Thanks to the personalized intake of bioidentical hormones at physiological dose, we can compensate for the lack of hormones in the human body and the deficiencies related to age, pollution, endocrine disruptors, industrial food, inflammatory diseases, stress, etc. An appropriate diet (palaeonutrition) supplemented with nutrients and micronutrients of quality supports ideally and inevitably the taking of bio-identical hormones.
The collaboration with the Hertoghe Clinic is for me a huge opportunity to expand this exciting and very promising field of activity!
Spoken languages : French/English/Dutch
Doctorate in medicine, surgery and obstetrics
General medicine
Specialization in tropical medicine
Specialization in Public Health
Nutrition, Phytotherapy, Homeopathy, Aromatherapy