Dr. Guy Gerin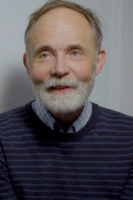 "After more than 30 years of general medicine, hormonal therapies offered me what is lacking in my practice. Other specialty: Mesotherapy. "
The patient is at the center of my concerns. I like to take the necessary time during the consultation to arrive at the right diagnosis and treatment. For me, the role of the doctor is to team up with his patient in equal parts each by transmitting the information so that the patient can take full part in the decisions and follow-up therapies, co-managing his treatment.
I am working for more than eight years in the clinic in close collaboration with Dr. Hertoghe
Participates regularly, often as a participant, sometimes as a speaker, in medical conferences including those based on the maintenance of health and the prevention of senescences (hormonal, nutritional, dietary therapies) to better improve myself.
Spoken languages : French/English
Doctorate in medicine, surgery and obstetrics
General medicine
Specialization in occupational medicine
Specialization in Acupuncture
Electrocardiography
WOSAAM Board Certificate in Anti-Aging Medicine – Brussels (Belgium)
Degree in mesotherapy