Replay – Beyond the basics: Harnessing the potential of lesser known hormones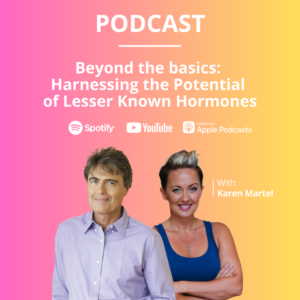 I had the pleasure of being invited by Karen Martel, who is a Certified Hormone Specialist and women's weight loss expert.
She is committed to providing exceptional care to women in pre and post-menopause.
Join us in this exciting episode as we dive into the world of lesser-known hormones!
In this episode, we cover a wealth of valuable information:
+ Demystifying the myths about growth hormone.
+ Unveiling the potential of hormone therapy to make you look and feel younger.
+ Discovering how peptides can support your hormone treatment.
+ Transforming your body composition for a whole new you.
+ Identifying physical signs of decreased thyroid hormone levels.
+ Understanding the factors behind thyroid hormone deficiency.
+ Revealing the most significant stimulator of thyroid function.
+ Unraveling the intricate connection between emotions and hormones.
+ Learning how your thyroid plays a crucial role in heart function.
+ Exploring how melatonin protects your heart from damage.
+ Emphasizing the safety and benefits of melatonin supplementation.
+ Finding the right cortisol dosage that suits you.
+ Discovering how oxytocin supplementation can be life-changing.
+ Understanding the various forms of oxytocin available.
+ Delving into the benefits of Pregnenolone and what it offers.
+ Recognizing when your growth hormone starts to decline.
+ Considering hormone therapy pre-menopause and its advantages.
+ The power of a 24-hour urine test in revealing insights about your hormones.
+ Unpacking what DHEA is, along with its benefits and side effects.
Empower yourself on your journey to better hormone health!
You can check out our podcasts by clicking the link below.