« Healthy Aging Medicine »: The new 2017 Concept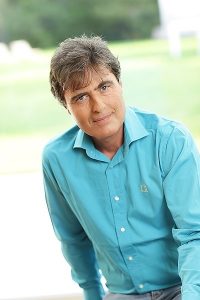 Leader of the Healthy Aging Medicine in Europe, Thierry Hertoghe represents, with his sister Thérèse Hertoghe, the fourth successive generation of physicians working with hormonal treatments. Currently actively writing his new Textbook « Reversing Physical Aging », he took a few minutes to look back at 2016 and give us various hints on his 2017 projects.
Good morning Dr. Hertoghe. 2016 is now over. Are you confident for this New Year? What are the challenges ahead for 2017?
Indeed, I am confident for this new year. The main challenge for this year will be to keep changing people's mindset about anti-aging medicine. Our movement is still too often unknown and/or stereotyped. Therefore, I think it is now time to join the shift of paradigm proposed by Dr. Italo Rachid, pioneer of our specialty in Brazil, and to talk from now on about "Healthy Aging Medicine" rather than "Anti-Aging Medicine". This makes more sense in comparison to the reality of what we do: we don't do merely anti-aging and we are not able yet to totally reverse the aging curve. Moreover, the Healthy Aging Medicine includes three sub categories: « reversing aging », « slow down aging » and « better health ». This new paradigm is therefore much more appropriate. We practice a curative and preventive medicine.
What is the role of Healthy Aging Medicine in our society?
Western population is facing nowadays a significant aging and this implies important health issues. Traditional medicine treats only the consequences of these health issues, whereas Healthy Aging Medicine prevents them and treats them. Therefore, it is more important than ever to be resilient: the authorities' recognition of our patients' needs for high quality treatments is essential.
From what I was able to understand, the Healthy Aging Medicine isn't yet a well-recognized discipline. How do you see this process?
It is a long-term process. The purpose is to gather our requests as well as those from the pharmaceutical industry to present them to our political leaders.
What are you going to remember about 2016? Are there any events that have left a particularly strong impression on you?
It is challenging to pinpoint a particular event.
However, I remember for example Dr. Farmini's case, in Austria. Dr. Farmini was trialed because he treats women whom have had breast cancer with feminine hormonal treatments. I am still surprised when I hear about cases like that. It is true that this treatment is quite innovative, but, most of the studies have shown that such a treatment improves women's living conditions, decreases the mortality and the risk of relapse.
Dr. Farmini, therefore, asked me to support him for his trial. I recently learned he won his lawsuit. This is a positive sign for the movement in Europe.
The Stromboli Conference on Cancer and Aging was another important event of 2016. This congress gathered an array of scientific visionaries and pioneers. All of this, thanks to the amazing work of Dr. Walter Pierpaoli, a melatonin expert, and his oxytocin.
Finally, the surgical operation on my eyes, on basis of stem cells, in Thailand allowed me to get back 25% of my vision, passing from a blindness of 40% to 15% for an eye. The results were encouraging: the distinction of colors and details for both eyes considerably improved, as much in the daylight as in the darkness.
Did you make any new contacts in 2016? Are these contacts going to lead to any projects in 2017?
Meeting Prof. Fred Fändrich (Hamburg) and Prof. Augustinus Bader (Leipzig) was very fulfilling. Both are visionaries and pioneers in their field (stem cells). I hope future collaborations will flourish soon.
During the Pro-Aging Europe and at the A4M Congress in Las Vegas, I also met Rowland Hanson, CEO of UVLRx Therapeutics, specialized in Intravenous Light Therapy. I think a future collaboration could also see the light within the next year. Rowland is a unifying person. Unfortunately, I can't say much more for the moment, as the negotiations are still ongoing. Nevertheless, I can already say that our meetings have been constructive and fulfilling.
Finally, the enthusiasm of medical doctors who follow me, such as in Sao Paulo (Brazil) at Longevidade Saudavel Congress, is also very rewarding.
Last November, you organized the 6th edition of the Pro-Aging Europe. What were your impressions?
I am very fond of the Pro-Aging Europe, as each edition gathers high quality scientists and sponsors. It is an ideal opportunity to remember the enthusiasm around the scientific innovations of our movement.
If I had to mention one lecture in particular, Dr. Flechas' presentation about Boron was very interesting. I was also attentive to future prospects of treatments based on stem cells.
Did you hear anything in 2016 that has appealed to you?
Professor Olle Johansson, an expert in electromagnetic field and speaker at the Pro-Aging Europe 2016, mentioned about the Congress: « I am happy to be in Brussels because, here, I can freely express myself." I think it summarizes perfectly the independence scientists invited as speakers at the Pro-Aging Europe have. This freedom has a real impact on the quality of the information presented to participants. Professor Johansson, for example, gave with passion a presentation on the adverse effects of the electromagnetic fields and the way to preserve oneself from them. This moved me and my team.
What are your projects for 2017?
My main goal will be to develop the structure of Healthy Aging Medicine.
First of all, a new textbook should be published in March 2017. I am very proud of it because of its revolutionary aspect. This book will be practical and theoretical, on « Reversing Physical Aging ». It includes a hierarchical organization of treatments by physical signs of aging. You shall find hormonal and nutritional, local and systematic treatments, with an evaluation of their efficiency. I tried to collect in it my knowledge and to gather experience from 4 generations of doctors using hormonal treatment. To my knowledge, such work does not exist yet.
I am also working on a project regarding artificial intelligence / virtual doctor, with the hope of a future synergy with other doctors. It will be a revolutionary IT program which will allow doctors to apply advanced hormonal therapies to their patients with confidence and competence.
Furthermore, I would like to concentrate on peptides and stem cells. For me, the future of Healthy Aging Medicine will be an association of hormones, stem cells and peptides.
Some of our collaborators also have great projects. We are in touch with laboratories which try to finalize tests able to identify one's organism hormonal levels such as relaxin, oxytocin, MSH, vasopressin, etc. and some peptides. Such analyses will be a world premiere: each hormone will have a specific test and a specific treatment. This is essential to identify the hormonal needs and deliver the treatments which are going to be in my next Textbook.
Finally, international pharmacies try to implement themselves in Europe in order to deliver products more easily. Our objective is that every country can benefit from identical treatment.
You are often invited as speaker during internationally recognized congresses. What are the events not to be missed in 2017?
This year, we will be in Dubai on February 25th and 26th, at the BHRT workshop organized by A4M Dubai. The congress organized by Dr. Italo Rachid's group, Longevidade Saudavel, is also an essential event for the Healthy Aging Medicine. It will take place in October, 2017 in São-Paulo. Finally, as every year, we will be present at the A4M Congress, in Las Vegas, in December 2017.
These trips are always very enriching. They remind us about the diversity and allow us to establish adapted treatments to each of our patients.
Finally, the holiday period has just ended. Did you receive or give a present which inspired you?
I offered Ashlee Vance's book "Elon Musk: Tesla, SpaceX, and the Quest for a Fantastic Future". Elon Musk is an extraordinary entrepreneur and has shaped the industry of the XXIst century. It is very enlightening.
Interview by Nicolas Verheylewegen, Brussels, 01/13/2017