Flavoured Water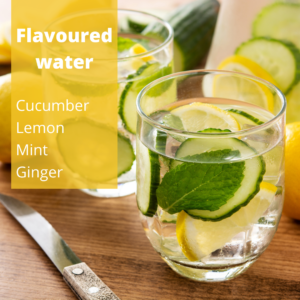 Need help drinking more water? This lemon-cucumber-mint-ginger water will help you do it. This homemade flavoured water recipe is easy to make and very refreshing.
Adding some delicious ingredients to water, may help people struggling in drinking enough water. As drinking water is crucial for the health. We can cure or relieve many diseases simply by drinking more water. Rheumatoid diseases can be alleviated by drinking more water, cardiovascular diseases too. Most importantly, drinking more water increases energy levels, allows people to sleep better and improves their health.
For this recipe you can chose the quantities you want for each ingredient, depending on your taste.
Enjoy it!
Want to discover more recipes? My book "Le Régime Hormone" (only in French) is for you!