Beetroot Juice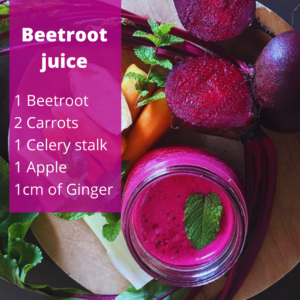 Beetroot detox smoothie is an excellent option to prepare and repair your skin to sun exposure ☀
Here are some facts about these ingredients:
Beets have antioxidant and anti-inflammatory benefits
Apples provide important antioxidant, anti-cancer, and cardio benefits
Carrots as for celery, it has anti-inflammatory properties, prevents chronic diseases, and minimized the oxidation stress
Ginger is another potent anti-inflammatory that offers protection against cancer and it gives a boost to your immune system!
Want to discover more recipes? My book "Le Régime Hormone" (only in french) is made for you!