Andalusian Gazpacho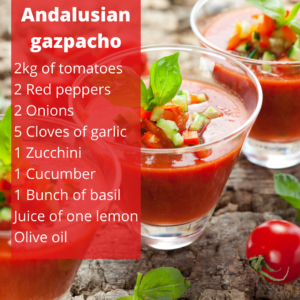 Gazpacho is a cold soup of Spanish origin, refreshing and rich in nutrients, vitamins and antioxidants, thanks to its vegetable content.
Preparation for 4:
Cut the zucchini into cubes and cook them with the tomatoes, red onions and garlic in a steam oven for 20 minutes. Peel the tomatoes. Cook the peppers in the oven at a low temperature of 75ºC for 1 hour to make them easier to peel. Then blend all the vegetables, keeping a small part of the cucumber and peppers that you can dice for decoration. Season with pepper and salt. Add olive oil and lemon juice. Place in the refrigerator for 4 hours. Garnish with whole basil leaves before serving.
Want to discover more recipes? My book "Le Régime Hormone" (only in French) is for you!