Apricot Juice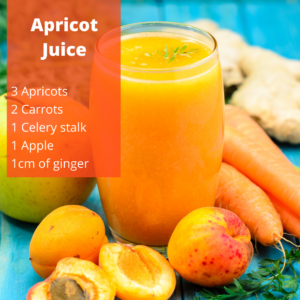 Enjoy this new recipe of apricot juice! A revitalizing and refreshing juice with seasonal fruits to enjoy during this summer.
Were you aware that juices are tastier when fruits and vegetables are organic and ripe?
Here are some benefits about these ingredients:
Apricots are a great source of many antioxidants, including beta carotene and vitamins A, C, and E
Carrots are a particularly good source of beta carotene, fiber, vitamin K1, potassium, and antioxidants
Celery reduces inflammation, and supports digestion
Apples can support a healthy immune system
Ginger appears to be highly effective against nausea
Want to discover more recipes? My book "Le Régime Hormone" (only in french) is made for you!