Dr Vanessa Luymoeyen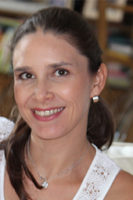 Special andropause and menopause consultation with Dr. Luymoeyen
"Passionate about medicine focused on the specific needs of each individual, which addresses the whole person, I joined the team of Doctor Thierry Hertoghe to practice cutting-edge hormonal therapies. My consultation will focus specifically on thyroid and sex hormone treatments (female and male).
Specialized in nutrition, I attach particular importance to the questioning and clinical examination of my patients. My goal is to help the patient by identifying and treating the root cause of their complaints rather than just treating their symptoms.
In consultation, I enjoy taking my time to look upstream and understand the complex web of interactions between personal and family history, genetics and lifestyle including its physical and social environment.
With this in mind, the hormonal treatments that I use cure deficiencies, optimize health and well-being and fight against the effects of aging."
Languages : FR / EN /
Doctorate in Medicine, Surgery and Childbirth
Specialization in general medicine
Certificate in Occupational Medicine and Toxicology
Training in Anti-Aging Medicine
Inter-University Diploma in Human Nutrition
Training in Nutritherapy
Diploma in Neuro-Nutrition
Diploma in medical acupuncture
Training in cold infectious diseases
Training in micro-immunotherapy