Beet Gazpacho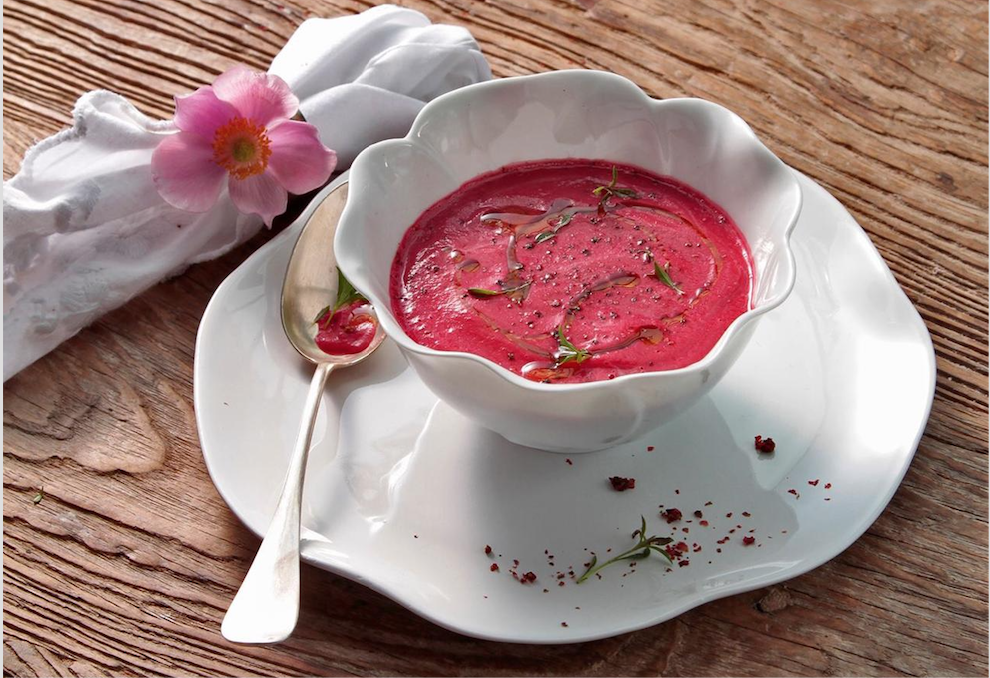 In many cases of infection, such as in an acute respiratory infection, the level of thyroid hormones is found to be very low. Can a hormonal deficiency promote an infection or is it the other way around? In fact, it is both. An infection causes stress to the body, which then defends itself by using the resources of the hormones (such as thyroid hormones) that help fight the virus. In addition, an infection slows down the conversion in the liver of the precursor T4 to the active thyroid hormone T3. Unfortunately, a low level of T3 promotes certain infections… a thyroid will boost your immune system (extract from page 135 from my book « Le Régime Hormone »).
My hormone diet? In any case, whatever your hormonal profile is (deficiencies or excess): you should cut out on cereals and dairy products, eat more meat (not after 1:30 pm), fruits and vegetables! … Eat fresh, natural foods (page 218). If you suffer from a deficiency in thyroid hormones and have therefore developed a more susceptible area for infections, favor vegetables in the evening, not proteins! More information in my book Le Régime Hormone
Below is a recipe from Martine Fallon, cuisinedelenergie from her book Amour Food, Editions Martine Fallon.
Instant Beet Gazpacho
Ingredients (4p):
1 medium unpeeled beet,
3 peeled carrots / or 1 unpeeled red pepper
2 whole tomatoes
1 shallot
1 clove of garlic
½ tsp vegetable broth
2 tbsp apple cider vinegar
½ fresh red pepper
½ tsp sea salt
spring water up to
1/2 cup olive oil
Mix everything in your blender and cool it in the fridge for 12 hours.
For decoration: chopped spring onions, balsamic or pomegranate vinegar, a drizzle of olive oil