Orange Avocado Smoothie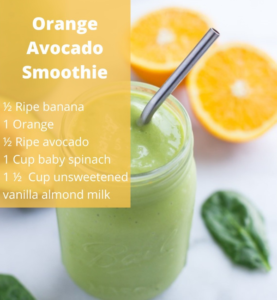 Taste this #detox and energizing smoothie! For a tastier smoothie use ripe and organic fruit.
Discover some of the benefits of these ingredients below:
With its high-water content and satiating fiber, spinach is clearly a slimming friend. By promoting transit and detoxification, it helps maintain a flat stomach by contributing to good digestive health.
| Avocado is an excellent source of vitamin E, a fat-soluble vitamin with recognized antioxidant properties. This vitamin is particularly effective in protecting cells from the harmful effects of free radicals, responsible for premature aging, but also for certain cancers and heart disease.
| The orange will offer you a better resistance to fatigue, especially during the winter period, thanks to its rich concentration in vitamin C.
| The banana is rich in beta-carotene (precursor of vitamin A), contributes to the health of the skin, the growth of bones and teeth and protects against infections. It is rich in magnesium, so it is a very good natural « anti-stress ».