Healthy drink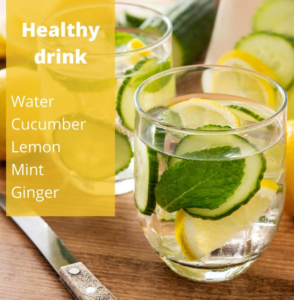 💧 Enjoy #healthydrinks!
When you are thirsty, many of you drink #carbonated and #alcoholicbeverages, which are full of #calories, or beverages containing #caffeine.
💡Q. What are the impacts of these drinks?
🥤 Softdrinks:
#Softdrinks contain an average of 20-25g of #sugar per 33cc of #soda. One soft drink provides 80-100 calories, and a regular #cola can provide about 180 calories.
☕ Coffee:
Two mechanisms activate weight gain:
+ Caffeine increases the activity of the sympathetic #nervoussystem, which increases feelings of #stress and causes people to eat more to reduce #anxiety and #nervousness, a phenomenon called « #EmotionalNutrition »
+ It also increases #insulin levels, which lowers #bloodsugar levels and increases appetite for sugar-rich foods such as rice, potatoes, fruit, bread, and sweets.
🍷 Alcohol:
#Alcohol contains 7 calories per gram compared to sugar, which includes 4 calories per gram. Alcohol makes you gain weight not only because it contains more calories than #nonalcoholic beverages but also because it increases your appetite for high-energy foods (bread, candy, meat).
Two other reasons are responsible for the weight gain with alcohol: the increase of the level of insulin (the hormone responsible for appetite and increased #fatmass) and a reduction in #fatreducing hormones such as #growthhormone and #testosterone.
To #loseweight, remember to #drinkwater, especially a half-liter of water 30 minutes before meals.